I discovered
flip.com
and it's not user friendly so I gave up. Maybe I'm braindead today because normally I love those kinds of things that allow me to display my daughter's pics in fun fashion! Oh well, maybe I'll try another day when I'm less tired! These weekdays where Trevor works until midnight are killing me because I cannot seem to go to bed before he's back. I put Emma to bed around 10 then go down and lay on the couch and watch some TV, I typically do fall asleep between 11 and 12 at some unknown point to then be woken up when I hear his key in the door. I'm kind of wide awake then and we lay in bed chatting until around 1am then so no wonder I'm dead tired when I get up at 7 and try to function at work all day! This week was harder, he did three weekdays of midnights, next week is just the one on Monday, not so bad!
On a fun note, we got a new car!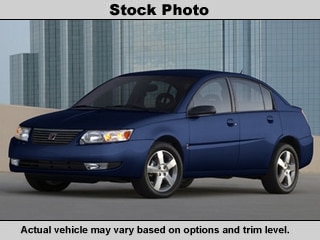 A gorgeous dark blue color, 2007 Saturn Ion. It's fun to drive, comfy, handles well, I like the stereo and the OnStar feature is kinda neat (that's free for a year)! The people are Saturn are really great to deal with, not pushy, very nice and helpful! :) I highly recommend them next time you need a vehicle, new or used! We were also pleasantly surprised at the payments and interest compared to what we paid when we got our Taurus. However, being just within months of my having filed bankruptcy and his not finding work yet, just having moved here from England, I'm that didn't help and made up prime targets for being ripped a new one by the dealer and finance company! Now, with the Saturn, GMAC is our friend, low interest and payments, right up our alley!
And, on a further bright note, the weather is taking a turn for the better, I hear such tales of temps up to 40's and 50's in the next few days! Yay, melted snow will be such a welcome site. The mud and muck isn't so welcome a site, especially for our bright shiny new car...but we get free car washes a couple times a month so we'll just have to take advantage of that! :)
Happy Weekend!